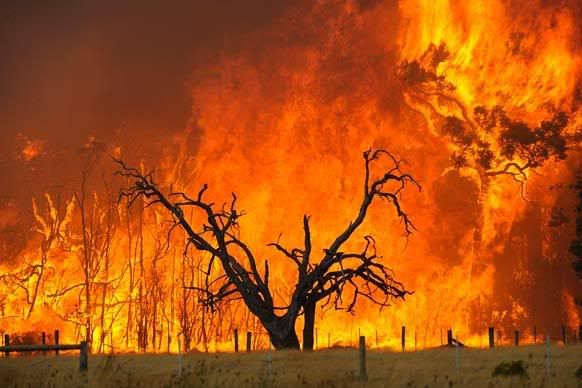 Photos courtesy of Channel Nine News Australia (www.ninemsn.com.au)
Our country is burning... literally. In the country's southern state of Victoria, hundreds of people have died, thousands of homes have been destroyed, even entire communities have been wiped off the map. And you know what? The fires were started by an arsonist. What kind of stupid [insert expletive here] would do this? Victoria had been experiencing temperatures of close to 50 C which is like hell on earth anyway, but why would you light a fire in those conditions. And they're probably watching the devastation on TV with a smile on their face, bragging to their mates that they did that. Apparently if they catch the person, they will be charged with mass murder. And so they should.
My heart is absolutely breaking for these people. They have lost everything, even listened on the phone while their loved ones couldn't escape the fire. Apparently the fires came through so fast without warning that people didn't have time to get away. Bodies have been found in cars, obviously trying to escape, in fields, in their homes trying to save them. That last photo breaks my heart... farmers already do it so tough, and then this happens... It's such a tragedy. 131 people are confirmed dead. There are expected to be hundreds more. The number dead so far is already double that of Ash Wednesday. I'm just in shock. I cannot believe the devastation that is unfolding. And to hear the stories of the people who it has affected... Man, it makes you feel like the luckiest person on earth by comparison. My heart goes out to my fellow Australians during this awful time. I'm not usually patriotic, but right now I just wish I could help in some way. And the way that people have been trying to help makes me feel proud to be an Australian. In a disaster like this, people from around the country will pull together to help those in need. Apparently you can't even get onto the disaster relief website and phone line because they are completely over-run with people trying to help.
So, yeah. I feel so sad about this. I just needed to post about it for some reason. I'm planning to try and do my bit to help these people, however small. Probably a kit that I'll donate the proceeds to or something. I don't know. Human beings constantly surprise me with their capacity to do harm, and on the flip side, their capacity to help those in need.
ETA: If my post today has moved you to want to help these people, the website is:
http://www.redcross.org.au/vic/services_emergencyservices_victorian-bushfires-appeal-2009.htm