Well, it's only been a bit over a month this time... I'm doing well! LOL!
So, from where I left off... We had a great Christmas and New Year! I had my first holiday in I don't know how long and had nearly a month off! We stayed at a lovely resort up at the Sunshine Coast for a couple of weeks just after Christmas, and it was awesome... And then, since we returned, we've been spending every spare minute we have painting the house - yay (not)! In a strange way it's been kinda good, even though it's hard work, as Marty and I have really enjoyed spending the time together and working towards a goal. Sounds kinda gay, but it's true! We're nearly there, we've finished the first coat on the last wall and just have the gapping, second coat and final coat to go, and then we're done - yippee!! It's nice to not live in a little log cabin anymore - LOL! So, apart from that I don't really have anything new to report, just wasting time, as per usual! I swear it's been hard to get back into work mode after being on holidays for so long - LOL! I have just finished my first solo kit of the year though, so it looks like the mojo might have returned...
Speaking of mojo, I've been really inspired by the Project 365 thing that everyone seems to be doing this year, and so far I've stuck to it (which is a MAJOR achievement for me not to forget about something after a couple of weeks - LOL!) It's funny how you get used to taking your camera everywhere so you don't miss a photo opportunity, even after only a couple of weeks. I've decided I'm gonna get myself a nice little happy snapper though, so I can take it easily in my back instead of lugging the SLR around with me... I updated my Project 365 Blog the other day with some photos, so if you're interested and want to take a peek at my life away from the computer, you can check it out
HERE
!
My favourite pic so far:
Onto some business stuff, I'm so excited that I've had another dual paper line with MME debut at CHA this past weekend - yay!!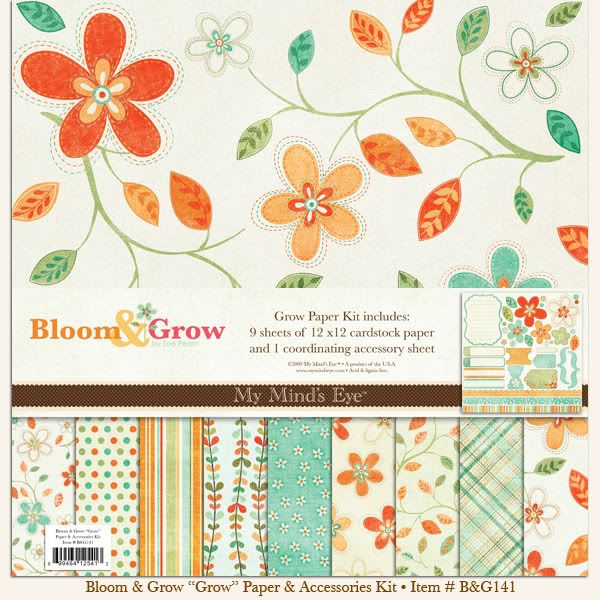 For those of you who follow my digital side of things, you'll notice that one of them is a completely new set of designs in the colours of my
Bloom and Grow
kit; and the other is the same designs that are in my Bloom & Grow kit, but in
Persimmon
colours - LOL! Very confusing! See, I had originally designed the papers for MME before I released the Bloom & Grow kit, and I wanted to use the colours again, so yeah! There you go, a tidbit of news for the week :)
Well, I'm gonna go and hit the sack before the clock strikes midnight so I can have some form of an early night... Hopefully I'll be around again soon!