... I'm about to flood you with so many photos - sorry!! I've had a bit of a lightbulb moment and worked out that I can change the ISO speed on my DSLR (duh!), AND the light meter! So, I've worked out how to take a half decent photo - LOL! Well, they're not the best in the world, but I was getting so frustrated because I'm still used to my film SLR, and I couldn't work out why sometimes the DSLR would take awesome photos, and others were complete crap... yup, it helps to read the instruction booklet sometimes - LOL!!
So, I had a little photo shoot with Joshy this morning, and OMG isn't he just the sweetest little thing?? He's just started to push himself up while he's having tummy time - so cute! Oh man, my heart just about breaks every time I look at him... love him soooooooo much!!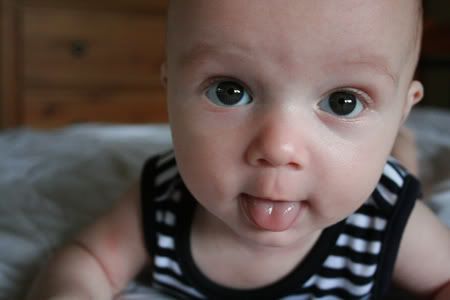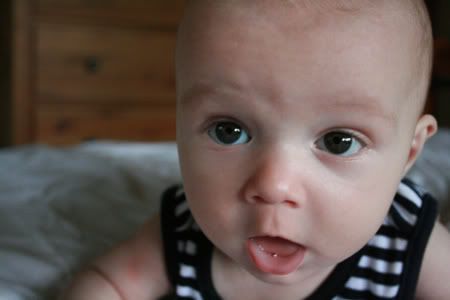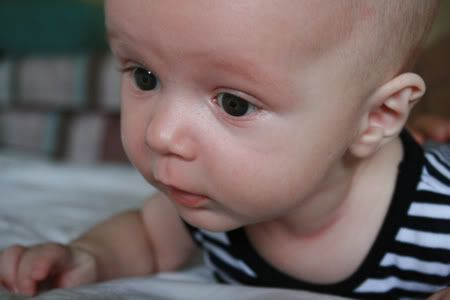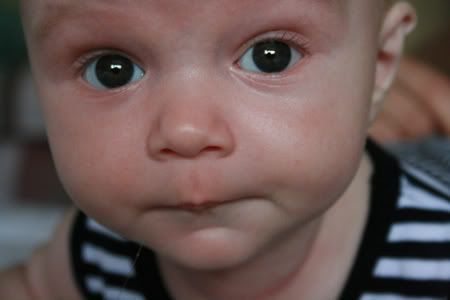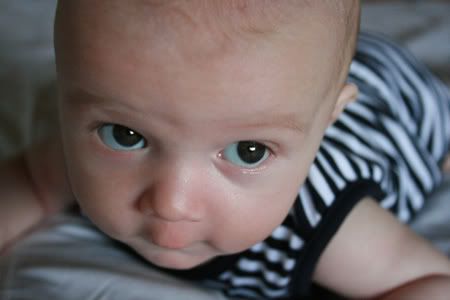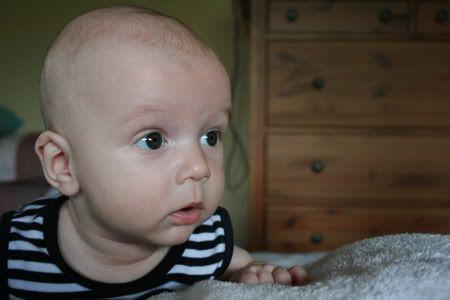 And, check it out... his very first pair of Vans thanks to his Aunty Kell & Uncle Clayt! Look at the soles on them... priceless! I love baby shoes.. I think it's cos they're completely useless, but that just makes them even cuter :D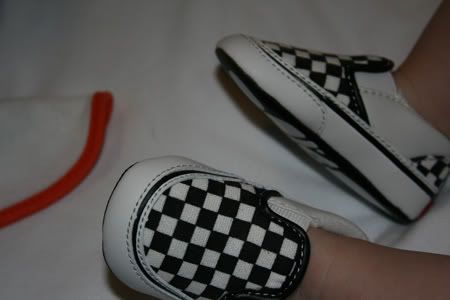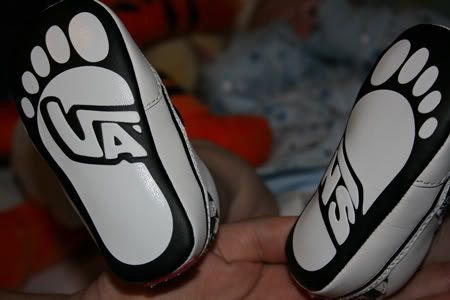 Well, that's pretty much it on the personal front :) Yeah, I know I'm boring... I need to get some sort of life happening so I have more to talk about than my baby - LOL!! Ah well...
Can you believe it's almost Christmas?? It's so crazy how fast time is flying this year! I seem to have gone from pregnant to being a mum to a newborn, to a mum to a 3.5 month old all in the space of about 1 minute! I can't wait for Christmas this year - I know Josh won't know any different, but it'll be our first Chrissy as a proper family... And Marty will be home for TWO WHOLE WEEKS!! YAY!!! ADULT CONVERSATION - WOOHOO!! Can you tell I'm excited? Plus, I just love that feeling that seems to be in the air at Christmas time... and the fact that it's my birthday the week before, not that that's too exciting anymore - LOL!!
In other exciting Zoe-Land news (not - LOL), I've finally bought my own domain, and plan to open my own little shoppe early in the New Year... I already have my own site, but at the time I got the domain name, I had planned to sell paper scrap products as well as my own digi stuff... but that all went out the window. Yeah, I don't know what I was thinking, but I hate the name of the site, so I'm starting fresh - yay!
And, I don't know how or when it happened, but I seem to have become a bit of an absentee in the community... and it makes me feel really bad. I don't know, it's kinda like when you haven't spoken to a friend in a long time, and the longer you leave it, the harder it gets to pick up the phone... Does that make sense? So, I just have to get more involved... and scrap! That's something I haven't done enough of either...
Okay, onto the business side of things :) Lauren Grier and I did a cute little 2Scoops for this weekend... Pretty much all of the Sweet Shoppe girls teamed up to do a whole lot of awesome collab kits, and they're just rockin'! Here's ours, it's bright and summery and so not wintery, but oh well... If it makes any difference, it's coming into summer over here in the land of Oz!
And, my latest love in designing seems to be glitter for some reason... I think I'm about 2 years behind the craze, but I just love it! I think cos it's shiny and pretty and so girly... Anyway, I've done these two packs of glitter backgrounds:
I have so many things in my idea book at the moment, I just don't seem to have the time to do them!! So, I've got a bit of a backlog happening... I think I'll get onto the Christmas kits in February the way I'm going - LOL!
Well, that pretty much wraps it up for this week :) Thanks for reading and I hope you are all having a wonderful weekend!
Zoe