Well, I thought it was time for a bit of a change, so I've moved my blog! Yay!! I absolutely hated my last blog - it'd take me a good hour to post anything because it'd freak out if I had too many pictures, etc, and it just wasn't functional for me... hence why I never posted - LOL! So, hopefully this one will be a lot easier to keep updated, and I'll be able to fulfil one of my New Years Resolutions (to blog more) - LOL!
So... first up I'd better get the business end of things sorted. I have a new kit in store this week, and I have to say I'm so excited about this one! It just seemed to come together so nicely, and I'm really happy with how it turned out:



You can check out My Sunshine HERE
... and because I just couldn't stop on this one, and kind of to celebrate my new blog, I've created a little goodie for you guys! This little kit will co-ordinate perfectly with the My Sunshine Kit, but is pretty cute on it's own too!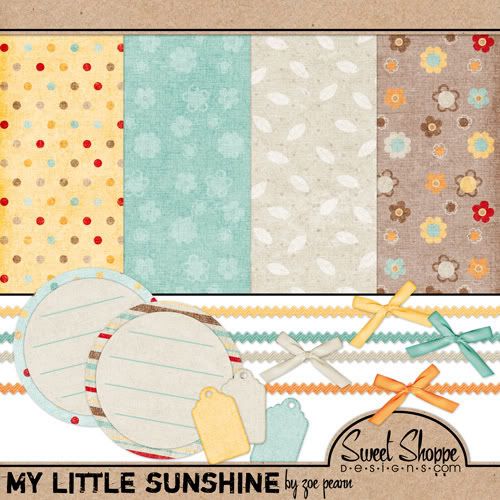 You can grab the My Little Sunshine Freebie
HERE
Now, onto other things... Those of you who know me already know that my DH and I are expecting our first baby in August - yay! I seriously can't wait, and to make things even better, it turns out that according to my size, etc, my due date has actually been moved forward 2 weeks!! So, it's looking like Christmas might come even earlier for us this year! I just can't wait to meet this little person... it's funny, I get all teary thinking about giving them a cuddle, changing nappies, etc - LOL! I'm sure that'll wear off after a couple of weeks of actually changing nappies - LOL! I think it's just hit me that we will actually have a real baby soon... I think because I'm starting to show now so it all seems a bit more real. And, can I say what a relief to finally look pregnant instead of just fat?!?
After months of saving my designing money, and procrastination on my part, and then finally deciding that I earnt it, so I can spend it - LOL - I finally bought myself a Digital SLR!! Woohoo!! I'm absolutely terrified of the thing, but it is so nice to use!! I'm still used to my old film SLR, and macro lenses, so this one's taking a bit of getting used to. I think I'm so used to not wanting to "waste" film, that I've been holding off on taking a lot of photos... but hey, I can take hundreds now and delete what I want! Marty isn't so afraid of it and took some really nice photos last weekend. I think he's a better photographer than me, although I won't tell him that - LOL! I'll share some next time when I've downloaded them off the camera :)
Anyhow, that pretty much brings me up to date for the last little while... it's a bit sad huh? I really need to get myself a life - LOL!
Thanks for reading if you've gotten this far! Hope you all have a wonderful weekend!